Custom Mattresses for Caravans & Motor Homes





"Excellent service, felt personal and mattress is better than even I expected, highly recommended." - Read More Reviews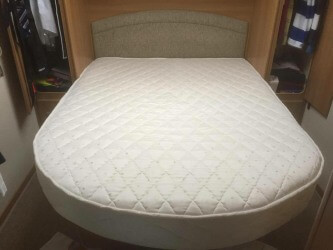 Ship Shape Mattresses are designed to give you home comfort in your Caravan or MotorHome, ensuring you get the luxurious comfort with the practical detailing you need for use on the road.
Bespoke mattresses hand-made in the UK, you can be sure they are made to a precise fit and finished to the highest quality - even for the most unusually shaped beds!
With our simple templating method, we can provide you with the perfect mattress without the need to come and visit your boat or charge for costly templating services.
We will walk you through the process step by step and can provide you with a templating kit or a template copy to take all the hard work out of it. It couldn't be easier!
Superb Range of Custom Mattresses - Which Mattress is Right for Me? - Click here
All custom made with a variety of finishes such as firmness, range of fabrics, handles, removable covers, piping, tufting and many others.
For a Firm Quote or to Buy Online:
Follow our simple 5 Step Process.
START by choosing the the closest match below. - We will refine it as we go on